About Us
Enjoy our world-class traditional Balinese hospitality
Beach Villa Balian is located on the corner of the boundary between the sacred Balian river and the Indian Ocean.
There are clear views of the majestic mountains from the property and also views across the ocean to Uluwatu and Java.
The custodian is named Made Arsa who is the real deal authentic Balinese local.
We call him Villa Manager in English but any job title or description is totally inadequate. Arsa is available 24/7 to service guests' requirements to the highest level you could find anywhere in the world.
Anything you need during your stay, just ask Arsa, and it will be done efficiently and to a very high standard.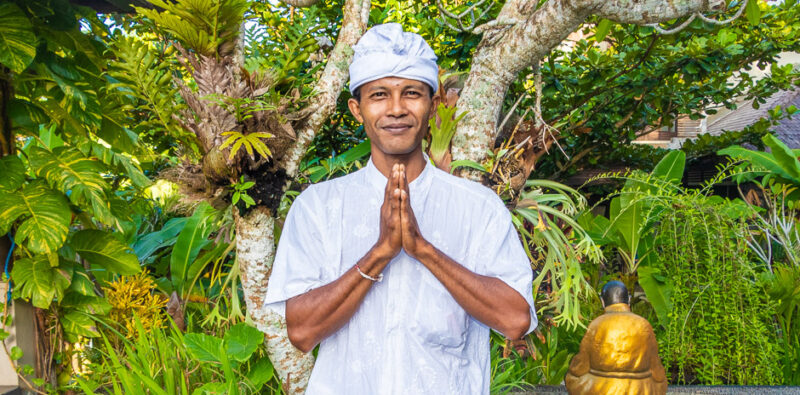 Other villas employ four or five people to do what Arsa can do on his coffee break, so whether you want to go on a fishing trip, arrange a snorkelling excursion to the national park, or have a fresh BBQ prepared and cooked for you by Arsa himself, he'll be very happy to assist you.
Here's what some of our previous guests had to say about the service they received during their stays:
I can't say enough about the amazing Arsa, the man in charge of making your stay wonderful.

Jane L (London, UK)
Arsa was amazing always there to help with any information about your stay, places to go etc.

Skybop3489 (Cornwall, UK)
Could not praise Arsa more, he was incredibly helpful and informative with local and general Indonesian information. He is a great asset to the house

Rachel (Melbourne, Australia)
The caretaker Arsa was amazing he looked after this place like his own and we were never waiting or wanting anything, anything we asked for was attended to very very quickly. He kept the place looking beautifully clean and was also very friendly.

Ben M (Sydney, Australia)
Near to Beach Villa Balian various restaurants have popped up that provide excellent western and Balinese food.
Beach Villa Balian is the perfect location for yogis and surfers who want to experience the real deal five-star beach/river-front accommodation (highest quality western standards) combined with genuine world-class hospitality from Arsa.
Along with other local Hindus, Arsa pays due respect to the gods of the river and gods of the ocean by way of traditional Balinese ceremonies. These ceremonies are to offer the Gods food and ask for their understanding.
The gods are happy at Beach Villa Balian as Arsa attends all the appropriate ceremonies and gives due respect to the true owners.
For more information or to make your booking, please get in contact.